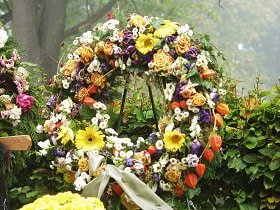 How to Choose Funeral Wreaths that Tell Your Loved One's Story
How to Create Funeral Wreaths that Share Your Loved One's Life.
Funeral wreaths are a popular alternative to vases of flowers because they represent the circle of and eternal life. Here's how to choose the right flowers.
Keyword(s): funeral wreaths
Upon losing a loved one, there is only a hand full of things you can do to show your affection. A common way of showing your affection for the dearly departed is by choosing flowers for the funeral.

There are numerous funeral flowers to decide from, however, for close friends and relatives, a wreath gets recommended. Due to their circular shape, funeral wreaths are meant to represent the eternal cycle of life; no beginning or end. As a result, they are an ideal choice of funeral flowers.

However, deciding on the ideal wreath can difficult considering all the funeral wreath ideas available. Hence, we are providing you with a detailed guide on how to pick a wreath that tells your loved one's story. To learn more keep reading.
1. Choice of Flowers
When choosing flowers for a funeral, you need to stick to a set number of flowers commonly used in a funeral. Every type of flower holds a sentiment. By choosing a wreath flower arrangement, you need to select flowers that represent the sentiments you are trying to showcase.
The most common options of funeral flowers and their meanings include:
Lillies- Used to signify peace for the loved one.
Roses- White roses signify spiritual purity while red roses signify love and grief for the departed. However, yellow and pink roses can also get used to signify the bond of friendship and thankfulness to the departed.
Orchids- Irrespective of the color, orchids signify that you will always love the departed person.
Carnations- These are the most common flowers used in funeral wreaths. Like with other flowers, white carnations symbolize innocence and spirit while red ones signify affection. However, most Christians use pink carnations.
Hyacinth- These are used as additions to flower arrangements. Hence they can get used to adding a bit of color to the wreath.
Hydrangea- They can symbolize a lot of things but they are commonly used to signify deep emotions
Since there is a lot you would like to symbolize about the departed loved one, you can use multiple flowers on the funeral wreath. However, to avoid making it look obscene, it is advisable to stick to a maximum of 3-4 flower types.

2. Size of the Wreath
The size of the funeral wreath depends on a number of factors, namely:
The intricacy of the design
How the wreath should fit in with the other funeral flower arrangements
As far as the design gets concerned, you need a larger wreath size when multiple flowers are involved. Using a small wreath with numerous different flowers seems clustered and the individual flowers lack in luster. Hence, if you intend to use numerous flowers, make sure you pick a suitable size.
At the funeral, there will be multiple flowers from other people. Some of the wreaths will get placed on stands in place of flower vessels. Other wreaths will get placed alongside or on top of the casket.
Mounted wreaths are usually smaller than those placed on the casket. However, it is inappropriate to choose an excessively sized wreath that seams over exaggerated. You should consult with the florist on the ideal size of funeral wreath based on the design you want as well as its purpose.
Conclusion on Choosing Funeral Wreaths
Funeral wreaths are meant to provide a means to communicate your sentiments for the departed person. Your choice of the wreath should be a message in the form of specially selected flowers that portray a deeply felt emotion.
Hence, always make use of a good florist when choosing a funeral wreath.
Do you need a florist to help you with flower arrangements? Don't hesitate to get in touch with us. We are professional flourish and capable of providing you with a wide array of flower arrangements and decorations for any occasion.