Celebrate Their Life: Four Types of Funeral Floral Arrangements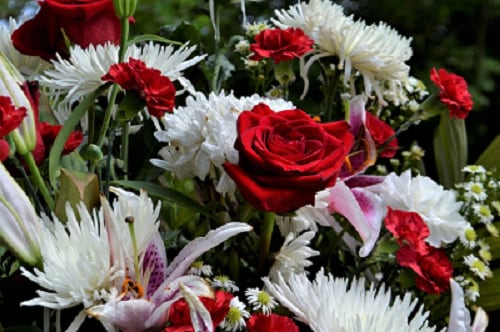 Celebrate Their Life: Four Types of Funeral Floral Arrangements
Planning a funeral is never an easy task, and there are a lot of things to consider when doing so. One important aspect of any funeral is the flower arrangements.
Funeral floral arrangements are a great way to pay tribute to the person you have lost. There are many different floral arrangements you can choose from. If you're wondering about what flowers to buy for a funeral, we're here to help.
Read on to find out about four types of funeral floral arrangements you should consider.
1. Bouquets
Funeral bouquets are often made up with a selection of different flowers. Some are made of traditional funeral flowers such as lilies, carnations, and orchids.
You can also get custom-made bouquets to give them a more personal touch. These bouquets are often placed into baskets which will surround the casket during the service. Some are also designed to go onto tables and stands, too.
These are often the most common choice of floral arrangement if you are sending condolence flowers to somebody's house.
2. Sprays
Funeral sprays are large and flat bouquets of long-stem plants which cover the lid of the casket.
They may come in single or double-ended designs, the former of which is displayed on a flower stand. Small sprays can go inside of the casket as well.
For these casket sprays, the family of the deceased are usually the ones to organize them.
3. Wreaths
A wreath floral arrangement is commonplace at most funerals and they come in a circular or sometimes heart-shaped arrangement.
Wreaths are a symbol of eternal life and they are most often displayed at the funeral on an easel stand by the casket.
They are often delivered to the funeral home and taken to the burial site.
4. Crosses
Funeral crosses are similar to wreaths except they are arranged into the form of a cross instead.
These arrangements are most often displayed on a stand and placed nearby to the casket. You may also find smaller versions of these cross flower arrangements which can be hand-held. They are often given to children of the deceased to place inside if it is an open-casket funeral.
These funeral floral arrangements are often only sent by the immediate family of the deceased.
Now You Know More About Different Kinds of Funeral Floral Arrangements
It's no easy task having to arrange a funeral or express your condolences to the family of the deceased.
Funeral floral arrangements are a thoughtful and caring way to pay tribute to both the deceased and their families during this challenging time. From wreaths to crosses, these four flower arrangements will help you make the decision and the process of choosing flowers a little bit easier.
Not sure of which flowers to choose for your arrangement? Check out our blog post of the most popular flowers in the world to help your decision.